Luxury. Exclusivity. World Class Wines
Join us onboard one of our exclusive wine cruise adventures and become immersed in a world of engaging wine seminars, personalized wine/food pairing dinners, and expertly-curated wine tasting events in some of the most renowned wine capitals of the world. With top-tier destinations like Lyon, Budapest, Bordeaux, Vienna, Barcelona, Portugal, Alaska, Tahiti, and Germany, these river and luxury cruises promise promise unique sailings in unparalleled atmospheres of intimacy and luxury all catered for the ultimate wine enthusiast. Chat and connect with fellow wine lovers as you sail to the most exotic corners of the world onboard some of the most elegantly designed and impeccably serviced cruises. Whether you're sipping a Pinot Noir on the AmaDolce river cruise or enjoying a Chardonnay on the Oceania Regatta luxury cruise, each of these river or luxury cruises guarantee a cruising experience unlike any other.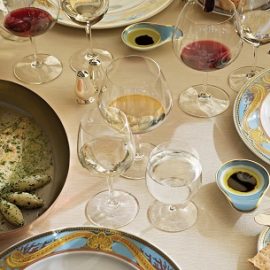 Smaller-sized vessels, countless complimentary onboard services and an elegant atmosphere and decor ensure an unmatched experience of cruising.  This commitment of excellence also encompasses a commitment to fine dining and exceptional cuisine onboard a river or luxury cruise.  The onboard six-star quality cuisine guarantees you a fine dining experience that will make even the most selective gourmet food critics smile with satisfaction.  Trust our onboard wine hosts who live, breathe, and love wine just as much as you.  Our wine hosts are knowledgeable wine instructors, certified wine sommeliers, winery owners, and even more professional winemakers from world renowned wineries.  From providing expert advice and knowledge through wine tastings and lectures, conversations over dinner, to treating you to rare bottlings or private reserves – our hosts are industry experts who are committed to ensuring your wine cruise is a memorable one. Join us onboard one of our exclusive wine cruise journeys and experience a unique wine adventure of a lifetime.